Written by Donald Stevenson.
Viola's work has been rightly described as a meticulous collection of light and shade.
Frank was asked about his vision for the books he's written. Here's his response:
"My vision for crafting a library of books is to blend together the best of theology, devotional literature, deeper life themes, Jesus studies, historical narrative, and Christian fiction creating a new genre of Christian literature."
Light – books that contain the element of the sublime – devotional & inspiring, throwing fresh light on Christ and the Scriptures.
Shade – books that contain a prophetic edge – challenging the status quo & blazing new frontiers.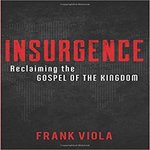 Insurgence – What Pagan Christianity did in redefinding and revolutionizing "church," Insurgence does in redefining and revolutionizing "kingdom." This is a daunting, engrossing powerhouse that's accessible to all audiences. I predict it will become one of the author's most iconic works and the new benchmark on the kingdom of God. Penetrating and full of insight. Revolutionary from start to finish, Insurgence astonishes and delivers. A masterstroke of spiritual genius.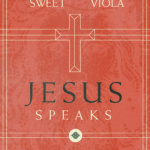 Jesus Speaks – The Christian analog to the Lennon-McCartney brand, Sweet and Viola offer the third book in their JESUS trilogy. Jesus Speaks is a masterful study on hearing God's voice. Mixing the personal with the scriptural, Viola and Sweet offer a comprehensive and practical look at recognizing the voice of Christ. This book emerges at the pinnacle of the authors' creative output and stands as an entrancing statement by the duo. One of the most anticipated books of the Summer of 2016, I predict it will be the new touchstone in its field and the gold standard for practical spirituality. Ignore it at your own peril.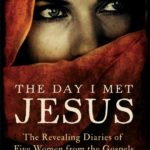 The Day I Met Jesus – Released in 2015, this book is a literary masterpiece. Viola and DeMuth are titans of creative writing, and in this astounding book, they are at their incendiary best. The Day I Met Jesus brings the reader into windswept grandeur, a soul-stirring journey of first-century figures and the Man, Jesus, who transformed their lives. The book is a durable body of work, nothing less than awe-inspiring. A great display of color, engaging story, and drama. At points, it contains a flair of passion. A spellbinding presentation. As one endorser put it (Leonard Sweet), the book is "elegant, stimulating, rewarding, this probe into Jesus' relationship with women packages the best of biblical scholarship and theology in the spellbinding wraps of storytelling."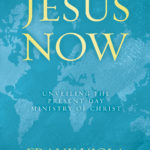 Jesus Now – Viola's 2014 release exploring the present-day ministry of Christ. A CBA best-seller, Jesus Now is a uniquely blended composition forging a creative exposition of the seven ministries of Jesus today. A fresh offering in a neglected genre and subject. Ground-breaking and sod-turning, written with stringent clarity and balance. "Tight but loose" describes this volume well.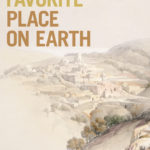 God's Favorite Place on Earth – Viola's crowning achievement, released in 2013. A new kind of Christian literature called biblical narrative. The book broke new ground in forming an exotic stew of historical fiction, spiritual prose, and practical application. Spellbinding and unchartered, profound and moving, poetic and electrifying, the book marks the apex of Viola's evolution as a writer and sets him apart as a master storyteller. Laced with exquisite writing and sophisticated theological concepts woven into story, God's Favorite Place is a stunningly elegant, magnificent and brilliant piece of work, a towering triumph in spiritual literature.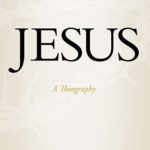 Jesus: A Theography – Released in 2012, Viola teams up with Leonard Sweet again to create a majestic, magisterial, astonishing tome that unfolds the Jesus story throughout the entire Bible. The book contains plenty of the old magic that is found in Jesus Manifesto, but it's heavier, more crushing, a pulsating and robust work. Viola's rousing chapter on what Christ was doing before creation charts entirely new directions. Sweet's chapter on the micro-view of the Genesis creation is a beautifully written lyric. The two literary titans have given the Christian audience another unique look at Jesus.
Revise Us Again – Incredibly edgy and on the money, this 2011 book hacks the victorious Christian life by presenting fresh and insightful chapters on neglected aspects of the spiritual journey. An atomic rethink that's infectious. Some of the chapters push the boundaries with subtle brilliance.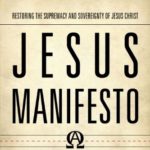 Jesus Manifesto – A 2010 release, Viola teams up with Leonard Sweet for the first time. The book contains crushing power and clever riffs focusing on the captivating glories of Jesus. Chapter 2, "A Bottle in the Ocean," is a composition that gradually builds its crescendo before culminating into a breathless climax. Chapter 3, "If God Wrote Your Biography," is a uniquely creative piece that creates an other-worldly effect. The book's tempo speeds up as its electrifying message unfolds. Viola and Sweet make for a poetic and prophetic pair, kicking the supremacy of Christ into the stratosphere. Presents Jesus beyond the realms of anything you could possibly imagine. The legacy of the Viola/Sweet brand stands unparalleled.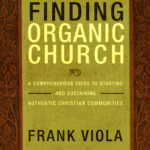 Finding Organic Church – Released in 2009, this is Viola's final contribution in his "ReChurch" project. It's the nots-and-bolts manual on Christian community and apostolic ministry. From its founding to its development and its perseverance. The book is dominated by Viola's rich and varied experiences in Christian community. Yet it's also packed full of Scripture, sketching out the consistent patterns contained, but not easily found, throughout the New Testament. A practical manual on founding Christian communities.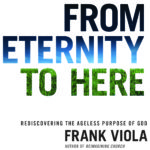 From Eternity to Here – This 2009 release is Viola's magnum opus. A sublime and sophisticated spiritual progression built around a mesmerizing narrative. If it was a piece of music, it would contain a huge, epic sound. Some chapters are sprawling and searing. Others are calculated to deliver a swift kick to the solar plexus. A literary and theological masterpiece that highlights the hidden but obvious riches in God's Word. The Viola opus hit the CBA best-seller list straight out of the gate. A landmark book on missional theology that's unparalleled.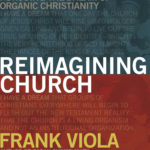 Reimagining Church – Released in 2008, Viola's constructive sequel to the much-hailed Pagan Christianity, this book veers off into a more ambitious progression in ecclesiological thinking. The book combines gut-level experience, on-the-ground practicality, and razor-sharp biblical exegesis with high-octane theology. Edgy, raw and real. Viola is at the top of his game in this volume. It contains a power and clarity that's startling.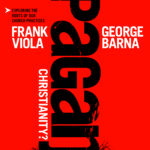 Pagan Christianity – Released in 2008, this evocative title put Viola's expertise in church history on the grid. Viola teamed up with research heavy-weight George Barna to create a formidable, devastating, prophetically written tour de force on ecclesiology. From the jolting opening to the challenging ending, this is a bittersweet, compelling, and dramatic progression of historical and challenging content. Love it or lump it, you can't read it and remain settled. This book sparked a revolution that set the stage for Viola's other groundbreaking works, establishing him as a voice that couldn't be ignored. Pagan Christianity is a milestone of raw passion and energy.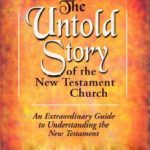 The Untold Story of the New Testament Church – This 2005 work will be revised and expanded by Viola in the future. The first incarnation is an interesting and engaging saga of the early Christian church in chronological sequence, with history and sociological insights blended into the story. A tremendous calling card for Viola's later works.
Click here to view all of Frank's books on discount or click the banner below.